Your lead generators, sales staff, and managers are all working hard to keep the funnel moving and make your targeted projections when it comes to customer sales. But in the midst of all that busy work, it's worth asking: how do you know who it is you're selling to?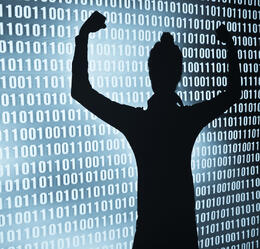 In this post, we want to address the ways you can use data to more accurately detail the customer portrait your team is working from, and more intelligently target that customer through number of dials, times of day to call, shaping the message, etc. This kind of digitally stored data is gathered by companies through a variety of sources including data digs through social media (hashtags, online mentions of names, keywords, images, etc.), information purchased from third parties, and information gathered internally. The larger the volume and variety of information on a customer or set of customers, the more detailed and accurate the portrait(s) can be, and the more potential use they can be to your business.
Here are 3 ways you can use data to improve your results
Identifying Customers and Micro-Segmenting Target Groups: Who are the people you are dialing? What is the level of interest they have in your product? Steve Offsey, CEO of Marketbldr, describes the four traditional modes of customer segmentation– geographic, demographic, psychographic, and behavioral–as well as what he calls Segmentation 2.0, the 3 new kinds of data provided by websites and online profiles: activity-based (web-tracking data, mobile data, responses to web-based incentives), social network profiles, and social influence and sentiment data (online reviews, customer service data, etc.). Offsey relates the story of one company's desire to segment its database of 400,000 customers, and how using these segmentation analytics gave them a financially rewarding understanding of their customers: "Six weeks after deploying the results, the retailer was able to increment revenue by more than $1 million by significantly increasing the probability of a sale to these 16 micro-clusters, increasing the probability of purchase of the next product suggested and decreasing overall churn."
Getting a clearer picture of your customers via data analytics can help to maximize your sales team's efforts by giving a more detailed picture of your customer base's various demographics and purchasing patterns.
Identifying Dial Numbers and Times of Day: Much of data analytic research looks at larger patterns of customer identity, but it can also be useful for improving more basic sales techniques. For instance, when is the best time of day (or the best days of the week) to call a customer? How many dials does a salesperson have to make to achieve "x" number of conversations? According to Laney Pilpel, Director of Client Operations at AG Salesworks, it takes 100 calls to achieve 10 conversations (for a 3.5% lead rate). Studies show that the best time to cold call is between 4 and 5pm; the worst times are 11 a.m. and 2 p.m. A good data analytics program can help target and refine these kinds of numbers to make them more specific to your business needs.
Identifying Selling Techniques and Opportunities: A smart use of data analytics can allow your sales staff to better understand customer purchasing patterns and sales opportunities. At Entrepreneurial Insights, they point to a sales targeting advantage a good use of data can offer B2C businesses:
Data mining enables firms to develop effective target marketing strategies, especially in B2C sales. By aggregating historical internal consumer data, and external data from a variety of sources, firms can target and qualify consumer leads…Using this data, firms can forecast a customer's probable purchase behavior with a high degree of accuracy. This allows sales directors to identify and refine key target segments and/or leads, inform the marketing strategies most effective in reaching them.
Rachel Serpa, the Content Marketing Manager at Gigya (which powers consumer identity management for over 700 of the world's leading enterprises), and Sam Laber, marketing director at Datanyze, write of the dangers B2C businesses who ignore new data can face when it comes to understanding their customer bases:
While B2C businesses know who their target customers should be, they often fail to re-evaluate and expand this picture. The list of brands and products that have been reduced to shadows of their former selves or killed off altogether due to failure to understand, evolve with or refine their audiences is a mile long…Identity-based insights can then be tied directly to consumer actions and purchase behaviors to help you tailor individual marketing messages, uncover new audience segments, refine your product offering and more.
Selling to customers in a world of more choices and less time means utilizing data gathered from social profiles and other sources to get a better sense of your customers (their interests, locations, and values). This, in turn, can allow you to better refine your message and target your pitch.
Data can be a great tool for helping you to craft a more accurate picture of your customer base, hone your message, and more smartly deploy sales tools and techniques. By following these 3 suggestions on data usage, your team can make sure its time is well-spent and better targeted towards your business's sales environment.
How does your company use data to help its sales team? Please share stories in the comments below!