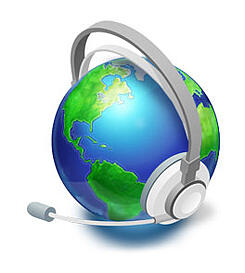 Outbound calling–initiating from a call center agent to a potential customer on behalf of a client–can provide numerous benefits to small and mid-sized businesses, from more targeted marketing, to cost-effective pipeline increases, to a more personalized customer service experience.
If you're on the fence about utilizing an outbound call service, here are 7 reasons we think it should be central to your business p
lan:
1. Built-in CRM and Lead/List Source Management
Are you getting the best demographic information for your target markets? A good CRM will help provide strong, targeted information that will generate the lead conversion you need.
A built-in CRM allows your company to better organize and manage its data via customized lead/list forms, which contain specific fields, options, and other targeting tools. This gives you a better understanding of which lead sources and characteristics work, and which don't . A CRM that automatically calls a lead again based on the status or disposition you've entered in means your sales team can use their time more efficiently. Specific individuals can be called, and if someone else picks up the phone, you can simply status the call and it will automatically call it back at another time to try to reach that customer (you can also schedule call-back reminders, or call multiple lists at the same time). It's cost-efficient because you don't have to pay for another CRM.
2.  Branch Scripting

Every client's needs might be different, based on market demographics, and numerous other factors. An outbound call service can offer branch scripting, generating specific scripts for agents based on their specific conditions and needs. This ensures that reps ask the right questions at the right time and helps them overcome specific customer objections (as the rep becomes more comfortable with the script, it acts as a form of self-guided training).
If your company is planning multiple campaigns with varying demographic needs, branch scripting can generate a text for each, allowing your reps to hold different conversations at different times. This allows you to map a sophisticated lead generation qualification and sales process that can hit different targets at once.
3.  Insights

Being able to monitor and track your reps' work can create a better understanding of how to more efficiently organize your company's time. A real-time dashboard with recording and reporting enables you to coach and adjust more effectively; you can note in real-time which agents are
currently on live calls

how long they are on calls

who is not currently on a live call

how long they have been waiting for a live call

who is on pause and not using their time efficiently
Outbound call systems will log every aspect of the call: total calls, length of each call (and the average length), the status of each call outcome (successful sales call, do not call, call me back, etc.). It can automatically record all calls being made, or manually decide when to record a call and then listen to it through the admin. This allows you insight into the productivity of your staff (in terms of both quantity and quality of their calls), the usefulness of your lead generation data (are they working off outdated material?), and which sales rep behaviors need further coaching in order to be successful.
4.  Scalability and Remote Access

For small and mid-sized business, the outbound call services we offer can help you ramp up and ensure that your on-boarding time is not slowed as we give your new hires access to our service. Whether it's one person or 100, we can scale our services to your business's needs and ongoing growth. There's no problem with office space, or needing to being on-site to manage–our remote access means you can hire virtual reps to work from home. We stay on top of your team while you're on the go. Are labor costs high in your area? Is it hard to find good or affordable talent? Our outbound call services allow you hire reps at a lower cost, or to connect with experienced reps living in a different area.
5.  Multi-mode Outbound Dialer and Auto Voice Mail Detection
Most people do not answer their phones unless they are expecting your call. The most important resource a sales rep has is his or her time. A multi-mode outbound dialer with auto voice mail detection can reach the people that can help your business the most, therefore maximizing the efficiency of your reps' actual talk time, pay time, and productive live conversations.
We use predictive dialing that calls multiple numbers at the same time and only connects live calls with potential B2C consumers, and preview dialing that shows who you're calling before calling them (used mainly for calling B2B businesses). Predictive dialing lets you increase qualified leads and generate greater sales revenue by increasing the actual number of live conversations your reps have per day. Previews let your sales rep know who they're calling, allowing them to do research on a prospect that lets those live conversations be detailed, personalized, and more meaningful for both you and your potential client. 
6.  Local Caller ID
Getting potential prospects to pick up the phone is the first step towards making a sale, and people are more likely to answer the phone when the caller ID displayed shows a local area code. Our outbound caller service displays a number that is local to the person being called, giving you a local area code for every city and state in the United States.
7.  Integration

New technology that you add to your business should smoothly integrate with existing systems, enhancing your sales reps' productivity. Our outbound calling system allows you to take advantage of the features of other systems. If your lead/sales process goes beyond the capabilities of our system, you can pass all the data from our end to another system automatically without having to manually enter it. This allows you to maintain a record's history, along with any information that came with it from our database. This is especially necessary for reporting, which requires data from the first touch point of a record in our system. 
A system's ability to integrate with your current technology also means that you can use it with a CRM that's more advanced. If you need different scheduling capabilities, for instance, you can leverage software that specializes in that area, and pass information on to it. 
Some vertical or industry-specific CRMs have capabilities that our CRM may not have. The ability to provide smooth integration means you can send data from our system to another  CRM, and continue your sales process using best practices in your specific vertical/industry.
SafeSoft's system has the ability to help integrate third-party leads generated through your landing pages, inserting them into the dialer in real time. Third-party leads are typically very expensive and sometimes sold to multiple people. The sooner you make contact with the lead, the higher your conversion rate. By having leads instantly inserted into the dialer, your reps can log into the dialer and have the ability to call them right after they have completed the form.
These are some of the central factors to consider when planning the purchase of an outbound call service. If you're a small or mid-sized business, it's a crucial remote service that can boost productivity and help you to grow in your market.