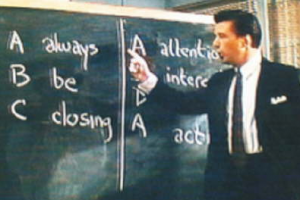 Ever feel like you're spinning your wheels when it comes to lead generation? You've hired smart people, you've gathered and crunched data and you're motivating your team to generate as many calls as possible per day, but transforming a call into a lead (and then transforming that lead into a sale) continues to be a frustrating puzzle for many lead generators, sales teams and managers.
A recent study determined that 66% of both B2C and B2B companies surveyed see lead generation as their biggest hurdle. But it's not just the volume of calls that matters (although it certainly does); it's also the quality of those calls, and whether or not they lead to substantive, productive sales relationships. In a competitive marketplace, recognizing the difference between the "real" and "counterfeit" in a sales call is just one of the many challenges facing an organization's lead generators.
What's the difference between polite interest and genuine need? Are your generators taking the right steps towards helping their sales teams? How do you know that the calls your reps are making during the day are generating useful conversations? And what can you do to make sure you're providing the right kind of support?
Here are what we believe to be 5 of the most difficult challenges lead generators face
1. Having Accurate Data
One of the most important tools for lead generation is a centralized, up-to-date marketing database. Some analysts suggest that a good marketing database can increase your lead generation's success by a factor of 50%. Making sure your salespeople have the right information can also help to generate internal conversations between different parts of the staff, increasing productivity. As the lead passes from generators to sales reps, each member of the team can suggest new clients, or add points that help to refine the messaging. This generates a strong informational loop and a greater sense of teamwork. A strong database is a good first step towards providing your team with the right tools, the right systems, and the right people in order to generate profits.
2. Shaping the Conversation
Finding a good balance between the number of calls and how good the calls actually are is a huge challenge for lead generators. A good generator wants to have a high number of conversations (possibly 120-170 calls per day/per rep), but he or she also wants those conversations to pay off with solid connections. Are your lead generators connecting with actual people when they call, or just leaving messages? Are they spending enough time with each call to really talk and develop relationships when having conversations? It's worthless if you have 10 live conversations and each one is only 30 seconds long, but if you have 10 live conversations that, combined, make up 4 hours of talk time, that can lead to solid inquiries, and qualify enough people to reach your quota.
3. Generating Enough Qualified Leads
Who are you talking to, and what are you talking to them about? A good lead generator understands the importance of targeted marketing– spending time talking with someone who has genuine interest in your product or service. A 2013 study suggested that companies with strong lead nurturing campaigns in place reported a 45% higher ROI than those who didn't.
We'd suggest that one way to do that is to listen to your top customers. Hearing specific stories of specific needs creates a deeper knowledge of your target markets and their issues. This can help you to form a picture of who your client base really is, what challenges they face, and how your services can help. Lead generation tactics can then grow out of this deep knowledge and be more finely tuned and targeted to the markets you want to enter.
4. Turning Qualified Leads Into Sales
Providing data, having productive conversations, and generating leads can all help set up your sales team to close the deal. But how do you transform a lead into a sale? The key is communication between sales and marketing: if everyone is on the same page, there will be a more efficient deployment of resources that can lead to sales. Remember the informational loop between marketing and sales we noted above: when each part of the team collaborates on phone calls and voicemails, direct market campaigns and other sorts of outreach, there's a better chance of each end of the process working in harmony with the other. Taking advantage of third party content is also a good idea: What are your customers reading? Where do they go for information? How can your lead generation utilize this information to create stronger conversations for the sales team?
5. Hiring, Training and Equipping The Right Salespeople
Providing salespeople with accurate data and qualified leads is a great start. But do you have the right people in place to begin with, and are you providing them with the training and evaluation they need to succeed?
We think one reason salespeople sometimes can't meet quotas is that owners often hope prior sales experience among their reps will fill any knowledge gaps about a given product. However, sales experience in one area might not translate to another. What's needed is a common set of expectations that are constantly reviewed, updated, and utilized to help the salesperson improve his or her performance. A good company should provide its sales staff with the right script, and teach them how to overcome customer objections and ask the right questions. And the training doesn't stop with the first call– there should be consistent coaching of sales reps through reviewing their calls, and identifying and correcting mistakes that were made. Consistent benchmarking of results can clarify expectations and keep everyone on the same page.