The year is 2025, and over 75% of the labor force is millennials or Gen Y…are you prepared? Millennials, or those ages 18-34 in 2015, are intrinsically different from older generations. This is due to the abundant rise of technology; the development of social media networks and big data integration have empowered experiences within their lifetime.

These rapid technological advancements have made many call center owners struggle to relate to their younger brass: millennial agents.
Whether you manage millennials, or your call center is looking to tap into their $200 billion spending power in 2017, there is no doubt that you need to adjust your call center practices to fit this new mentality. The integration of the millennial workforce is completely unavoidable–so it is a perfect time to start embracing their values. Adjustments may be necessary, but building an engaged millennial workforce & customer base in 2017 will only bring drastic positive change to your call center.
What makes Millennials Unique?
Unlike prior generations, the time millennials grew up in is profoundly different from workforces & buyers markets in the past. Millennials have grown accustomed to instant gratification. Seamless responses. Quick transactions. Endless interaction. These inherent differences between millennials and their counterparts is in direct correlation to the enhancements that we have all received in the digital age. However, not being born in the "digital age" highlights the contrast in lifestyles and values that tend to make millennials particularly unique. Millennials grew up in entrenched in technology, while generations before them simply embraced the advancements into their lives.
"Tech savvy" yet "abrasive" seem to highlight what it is like to manage millennials. This is probably why a Forbes study noted that 68% of corporate recruiters say that is difficult for their organizations to manage millennials. This difficulty in attracting engagement affects employees and customers alike.
Call centers are unfortunate veterans when it comes to lack of engagement by their young workforce. High turnover rates have plagued the industry for years, and the lack of retention in the millennials workforce has not offered much of a buffer. Moving forward, call centers managers need to do a much better job in portraying a fun atmosphere and culture to help engage their employees and culture.
Here are 10 easy ways to engage and better manage your millennial agents and customers.
1) Clean and Modern User Interfaces (UI)
Studies indicate that over 40% of millennials are looking for jobs within the technology industry. So, odds are your call center will be in the radar of many millennials entering the workforce. Millennials expect, in fact they require, that the user interface given to them is user friendly. If you are supplying them with out of date software , it is very likely they will contribute to high turnover. Many call center software solution providers constantly update  their UI. An out of date, text heavy, non intuitive UI will likely lead to agents uninterested, unmotivated, and lacking feedback.
By providing millennials, or your entire workforce, with a platform that looks familiar and up-to-date to them then you will see agents become more engaged and increase adoption to the platforms that they look at everyday at work. You would only be limiting yourself by giving your agents an experience that you know will be robotic and outdated to them.
Talk to your agents about how they feel about the interface of your platforms. Many call center softwares offer free demos so managers and employees alike can see if an overhaul is needed to improve engagement and likeability of your agents.
2) Business Gamification 
Don't worry, call centers are not the only industry suffering from disengaged millennials; as the Gallup survey indicates below: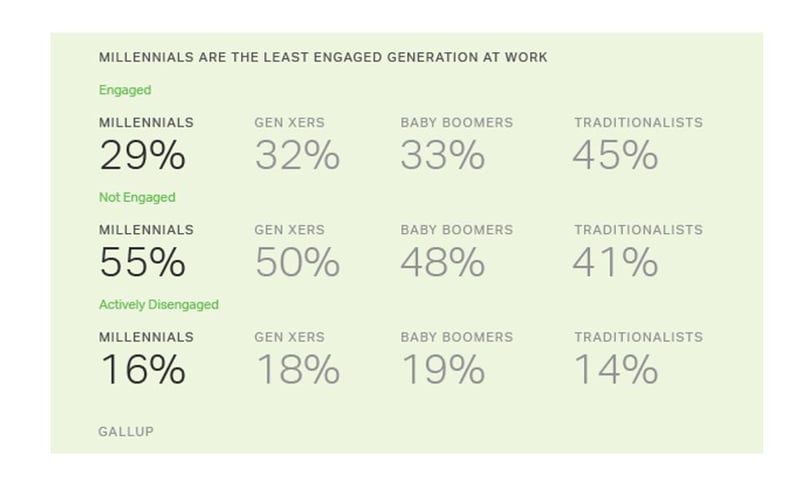 However, there is new technology that can cure this lack of engagement. The practice of "Gamification," while relatively new, is a sweeping sensation within the call center industry. By adding gamification, or game-like mechanics, within your call center you are setting a new culture that REWARDS engagement.
By incentivizing your business KPIs to and rewarding office competition, gamification is a call center feature aimed at solving engagement quarrels.
3) More control, not less
As the Share Economy continues to boom within the millennial workforce, one thing is made clear: millennials love to be their own boss. Through gamification and other call center software settings it has never been easier to devvy responsibilities and incentivize reaching particular goals.
A major issue within call centers is a lack of connection between the company and a passion to achieve goals. By giving your employees more control you are opening the door for them to align themselves with your own goals as a call center manager. Show that more control in their jobs means an elevated status in the company. Millennials, actually love to work when they have a purpose. By giving millennial employees MORE control you are strategically giving them more purpose within your company. Embrace the culture that comes with self-sufficient millennial employees.
4) Flexibility is key

As a manager of any business it is very easy to get caught in your ways or reliant on strategies that have worked in the past. Make sure that your call center is robust and against the typical grind that can come with working within a call center. Ask around your office and make sure that your employees know that their voice is always heard. See how you can improve your office environment by embracing the variety of culture within your company. Consider giving your agents more self-sufficient methods of working like: remote agents, flexible hours, etc.
5) Embrace new technology

Staying flexible also means that you are actively seeing new technologies that can improve your call center. You already know your millennial employees do not like to be using old techniques (especially using out-dated software).
"Having grown up with technology at their fingertips, millennials won't put up with poor enterprise technology." VIA WIRED
Take this into consideration if you are debating trying all the innovative new features that rise in the call center.
Helping Millennial Agents handle Customers: Features & techniques to help your millennial employees handle customers.
6) High expectations require higher results
68% of 18 – 34-year-old consumers have higher expectations for customer service today than they had just one year ago (compared to 56% across all age groups and 47% of consumers ages 55+). To deal with these higher expectations you need to hold your call center to same expectations as your customers. This means a product of high quality, calculated marketing techniques, and importantly... a reputable customer service team.
For, high quality service–this always begins in the onboarding process. How you train your millennial agents is probably the most significant time in that employee's tenure. Ineffective training is likely to result in lacking solutions, or service, to your customers.
7) Speed is the name of the game
Dynamic scripting & IVRs might be your savior if you are experiencing low first call resolutions or first call closes. 72% of customers expect FCR. Millennials, who are accustomed to instant answers in the digital age, are even more hypersensitive to how quickly you can be of service. Setting up dynamic script can speeden up the sales process by allowing agents to flow from talking point to talking point. Making the scripts unique or having an intuitive scripting interface is going to be an important factor for your millennial agents. 
8) Consistency is key
Customers can tell if you are failing to meet inbound kpis or outbound kpis. This lack of consistency is something that millennial customers can take specific notice to. Always make sure you are setting the right metrics for your millennial agents. Live Coaching, Custom disposition, Real time Reporting, and Historical Reporting are call center software features that can drastically help you analyze and resolve troublesome goals.
9) Stay social
Almost half (47%) of consumers ages 18 – 34 have used social media to complain about a brand's customer service (compared to just 29% overall and 12% of consumers ages 55+). Communicate with customers on social media to see what your customers are saying about your brand. Your millennial agents are likely all on social media as well. Come up with clever and unique ways to use their social savvy to help with engagement.
10) Stay on the cutting edge
Millennials are actually a more loyal customer than you would think. This includes their loyalty to your company as an employee. However, in order to keep up with their constant evolving needs, you have to be alongside the cutting edge of technology. Your customer service agents should be provided a software that allows them to give your customers top tier service. You should also be researching and implementing the newest technology trends to make sure you don't lose your loyal millennial agents to your competition using higher end technology.
The millennial workforce sure is an interesting one. With your call center you will likely see a drastic increase in agents within this generation. These practices can be used to ensure that you are being the innovator towards your millennial employees & customers.