Convoso was honored to attend the 2016 ICMI (International Customer Management Institute) Contact Center Demo & Conference. Dallas, TX, served as the meeting ground for this year's most innovative technologies in the contact center space. Convoso was privileged to head into the conference as one of the featured exhibitors listed in the official ICMI press release.

       ICMI hosted thousands of guests and featured companies that serve millions of customers every single day. Whether your contact center operation was comprised of three agents, or 17,000 plus agents; ICMI offered a wonderful marketplace for contact center solutions to connect, learn, and showcase their technologies. Notable conference keynote speakers included Tom Grothues, Senior Vice President of USAA, and Heather Magaha of Wells Fargo. The event also featured full-scale tours of the local call centers in Dallas, Texas.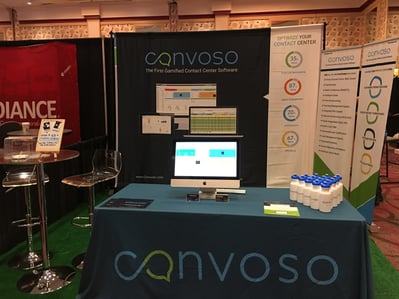 Convoso hosted a wide range of visitors to booth 718. Boothed near touted industry influencer book signings – Convoso provided demos of our cloud-based end-to-end gamified solution to hundreds of attendees. Exhibiting to potential customers and industry leaders–the Convoso team in attendance showcased our product to companies with a range of issues:
Capturing millennial engagement. This, not being limited to in-house agent engagement among unmotivated employees.

Complexity in their current solution's reporting system resulting in the need for extra specialty positions. Thus, using resources that could otherwise be allocated towards other areas of their operation.

A lack of an intuitive user interface in their current solution –making the lives of their agents inefficient and cumbersome for admins.

A lengthy, ineffective, and rather difficult onboarding process for new agents.

The need to run multiple solutions simultaneously due to a lack of fully integrated solutions or solutions with proper integrations. A lack of API integrations has caused many companies to continuously add third party platforms. Thus, significantly increasing the chance for a discrepancy within a company's data and inefficiency juggling back and forth from several interfaces.
       Many of these decision makers experienced first hand that Convoso's end-to-end platform solved many of the current pain points for contact centers.
       Convoso's Gamified contact center solution software consistently wowed and presented  an effective solution to many attendees. Convoso's Solutions Engineer, Juan Rivera, said this about the platform, "We position ourselves strongly in a space that people didn't even know existed. Other contact center solutions providers all possess different components of a functioning contact center software, but no one else in our space has them all combined. Convoso provides an innovative alternative that houses all the tools in one platform and gamifies the entire solution to drive the extra value in productivity and agent motivation. We are saving clients time who are currently piecemealing third party products to achieve what our platform already does."
       Visitors to the Convoso booth were extremely enthusiastic and fascinated by the incorporation of gamification into the pre-existing and innovative suite of contact center tools. A solution that had some attendees buzzing that Convoso was the "Fitbit for the Call Center industry."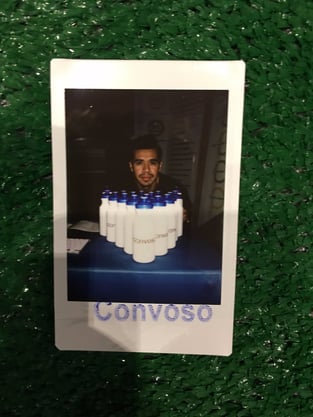 For the surprise of the event, speaking to the 80s themed networking event, Convoso pulled out a seemingly antiquated piece of technology that proved itself to be a crowd favorite…a polaroid camera. At an event dedicated towards showcasing the latest and most innovative pieces of contact center technologies– good old fashioned polaroid pictures triumphed among the attendees. Which goes to show; sometimes the fun and games in tech can be through something as simple as a disposable picture.
       ICMI offered great insight to the evolving landscape by showcasing the new innovations and the range of new tactics currently used to achieve operational success in the contact center industry. The event hosted industry leaders in the contact center solution space and provided a forum for what innovation decision makers are yearning for. The Convoso team was thrilled to share our platform to managers and agents seeking a potential innovation through motivation. We gained a lot of valuable insight for what customers sought out in a modern contact center solution. We look forward to providing top tier partnerships with the companies we've met during this event and many more to come.
P.S. Congrats to the ICMI giveaway winners! The Convoso team hopes you enjoy your new VR Headset and Polaroid Camera!