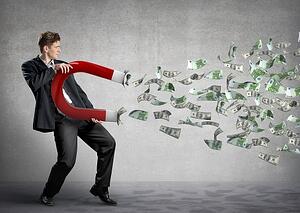 Who's starting the conversations about your business, and how can you make sure it's the right person?
In our last post, we talked about some of the challenges currently facing lead generators. This time, we want to talk about inside sales representatives: how to identify them, how to train them properly, and how to provide the necessary, ongoing support they need to thrive.
Inside sales is one of the fastest-growing sectors of B2C companies, with a recent study indicating that hiring for inside sales reps was growing at a rate 15 times faster than that for outside sales reps. "Inside sales" refers to the sale of large-ticket goods or services via remote methods: phone calls, email, and other forms of virtual outreach. Whereas telemarketing is a scripted process of single calls to potential respondents, inside sales involves multiple "touches" by trained, professional staff able to extemporize from general talking points. Inside reps provide cost-effective models for mid-sized businesses: they can be managed from a single location, cutting down on travel expenses and allowing the reps to make more calls per day from a single office. Studies have also shown a lower cost for processing orders over the internet.
Despite the advantages an inside sales rep can provide in a rapidly shifting marketplace, defining and shaping the position is still a challenge.
Here are 4 qualities we think a good inside sales rep should possess:
 Internally driven/motivated
In a competitive market, you need reps who will seek out new sales goals, pursue new clients, and not get down when faced with rejection. A candidate with drive, who can speak to experiences overcoming obstacles and finding success has a strong chance of helping your business, and will need less managerial reinforcement.
Builds rapport through engaging conversations
Starting with the pitch is not a good move for a successful inside rep. Instead, he or she should make the client feel comfortable and engaged, building a rapport through simple but effective conversational techniques. Having a pleasant, opening question about the client's work or world (rather than the product they're pitching); knowing details about the client's business that they can make light conversation about; being able to politely "turn around" a client's resistance or refusal to purchase ("I understand. Had you thought about…?"); and most importantly, being able to listen and build on the client's questions or concerns– these are all signs of a good inside rep's ability to build relationships.
Optimistic and goal-oriented
Does your inside rep candidate thrive on competition? Does he see incentive practices as motivation? Does he smile at challenges, show resilience in the face of adversity, have examples of overwhelming situations he has overcome? In a competitive marketplace where "no" is heard often, a good inside sales rep should stay positive and offer results, not excuses. 
Trainable and willing to learn
Don't be afraid to hire out of college, or to look to candidates with limited sales experience. Sales guru Mike Brooks notes that it is often easier to train a new inside rep with limited experience– but lots of enthusiasm and drive–than it is to teach an experienced someone stuck in his or her ways. What's important– especially given changing technologies and sales techniques– is that the inside sales rep is coachable and open to learning new things.
Check out our blog next week to learn the four areas we think employers need to be focused on in order to best support their inside sales reps.