Convoso's Team Spotlight
Welcome to the first ever Convoso Team Member Spotlight! One of our core values here at Convoso is Collaborate to Win. Collaborating to win is all about fostering team integrity, and the new Convoso Spotlight aims to shine a light on all of our wonderful members.
Meet Juan.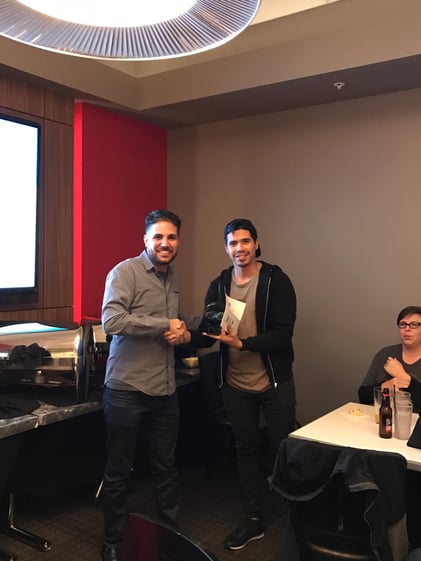 We're starting with Juan, who definitely deserves some spotlight… Juan just recently won Convoso's MVP of the year for 2016 for his outstanding performance!
Juan is Convoso's lead Sales Consultant and has been with Convoso for 3 years, and isn't one to shy away from the challenges of the job– in fact, they fuel him to keep going. "The challenge of really understanding the pain, and getting to the root of a problem a client has… it's the first step to identifying a solution that's best for them."
Juan explains, when asked what his favorite part of his job is. "Working with all these customers from various industries really helps you stay versatile. Sales tells you a lot about a person and their company– it's very interesting."
Fast facts about Juan:
Favorite food: "Uncrustables… grape flavor. Duh."
Hobbies-: "I'm actually a professional drummer! So drumming is a big one, also I'm a big history buff. And of course… Netflix."
Childhood Dream Job: "A neurosurgeon. The mind is the last frontier! There are so many things to uncover- I've always thought it's fascinating."
Stay tuned for our next spotlight! We interview Technical Support Level 3 Ernie Babinski!