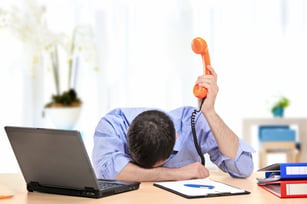 Nothing is more frustrating for an outbound sales manager than profits plummeting and your sales force growing disillusioned due to unsuccessful sales calls. At times like these, the person in charge of the outbound team may question his or her ability to maximize the productivity and effectiveness of their outbound sales team's efforts. Besides ensuring that agents meet sales targets, various processes and procedures have to be implemented in order to ensure increased revenue.
Today, we will look at 7 frustrations encountered by outbound sales managers as well as ways to rise above these challenges. Incorporating proper solutions to these daily challenges and anxieties is what it takes to bring about quality leads and experience revenue growth.
1. Increasing Rep Productivity
Agents who are not as productive as they should be prove to be major headaches for outbound sales managers. In fact, a study by The Bridge Group revealed that 46% of managers identified productivity as one of their top challenges. Essentially, you want agents who can perform. So what can you do to ensure productivity?
What if you had an easy-to-use system that would allow you to implement solutions quickly and seamlessly? Intuitive systems can help the sales rep to focus on their task at hand rather than side tasks that take too much time and distract them from the ultimate goal of connecting with customers. There are several other factors that play into whether a rep is productive or not, but providing them with the right tools and support can have a significant impact.
2. Staff Turnover (Recruiting)
The recruiting and hiring of top talent is second on the list of concerns for many sales managers. Managers need to keep their staff motivated and happy, which ultimately helps reduce staff turnover. Be smart, and distinguish between things you can do something about and those you cannot. For instance, you might be able to prevent a staff member from moving on by improving processes and procedures, which can help make your salesperson's life easier. On the other hand, it is no use crying over spilled milk if a sales rep decides to move on because your company is not a good cultural fit for her.
It is therefore essential to hire quality sales agents who can not only do the job, but who want to do it. Having the necessary software and training/coaching in place to assist with the hiring process will go a long way to ensure the right people are hired for the job — and thereby reduce staff turnover.
3. Customer Service
Did you know that news of bad customer service reaches more than twice as many ears as praise for a good service experience? Nothing harms the reputation of your business more than bad customer service. Managers often have to deal with irate customers that had a bad experience in the way an outbound call was handled.
Managers should find ways to reduce bad service experience by ensuring that proper systems are in place to address any concerns or queries raised by customers. Implement pre-programmed software that can successfully answer any queries or concerns a prospect may have. On the other hand, it is always a good thing to make use of QA (quality assurance) to assess the call quality by listening to recordings in real time. This way, any immediate problems picked up by the sales manager can be taken care of right then and there.
4. Generating Reports
A lot of time gets wasted on manually creating reports. At times, reps are utilized to take care of this job function, which proves to be a costly exercise as it impacts turnover. It certainly won't reflect very well if an outbound sales manager has to report to his or her client that sales were lost due to being unproductive.
Automated reports will provide your business with clear and actionable information when needed the most – during busier times and when a crisis is looming. Isn't it time that you reach out to a company that has your best interest at heart to provide you with proper solutions that will make a huge difference to your bottom line?
5. Onboarding new hires
The onboarding process can be extremely challenging for all concerned. Sales managers have to devote most of their time to sales coaching and ramping up new recruits. After all, onboarding time for ramping up new reps may vary depending which industry you are in, and one should never rush it, or else you will pay the price.
New recruits should be given ample opportunity to observe, internalize, learn, practice, and so on. According to Silkroad Onboarding, having the right software solutions in place will drive engagement during each phase of the rep's career. In turn, it will reduce costs and minimize the time spent on developing and training new hires in order to ensure the ongoing success and commitment of each sales rep.
6. Training
Customers nowadays expect sales reps to be well informed about their particular requirements. This is where the right training methods come into play.
Part of the training process involves showing sales reps what questions to ask, how to keep accurate records so they can properly follow up, and how to be stoic in the event of the most adverse sales call. Ensuring that reps are both empathetic and knowledgeable, and therefore ensuring that customers keep on buying, is no easy task for the outbound sales manager.
7. Increasing Yield per Sales Rep
Increasing the yield per rep is another major challenge for any manager who is responsible for a sales team. It cannot be emphasized enough the importance of getting reps to realize the impact their sales call has on the overall profitability of the organization they work for. On the contrary, it will make their jobs so much easier if they are provided with quality leads who have already been identified as a suitable buyer for the product or service they are promoting at the time.
Wouldn't be nice if your organization had a top-quality sales funnel in place that drives qualified leads who are ready to buy but may need a little more detail before they make their purchase? Technology and enablement tools will make a huge difference to any firm's bottom line. Consider seeking the assistance of companies that can provide your business with an easy-to-use system that can be implemented immediately. 
The key to eliminating these 7 frustrations faced by most outbound sales managers is to make use of automation. Doing so will improve productivity and increase the attrition rate of your sales reps. The end result? No more frustrations to keep you up at night.