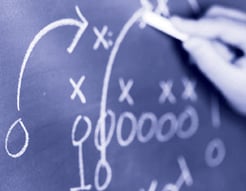 One of the biggest challenges facing high velocity sales organizations is ensuring that there is consistency throughout the process, from one rep to another. With so much money invested in the cost of customer acquisition, it's imperative that all members of your sales team are utilizing your best practices.
This is important for your veteran salespeople, and it's absolutely critical for new hires. One of the most common problems sales managers face is getting new sales hires up to speed fast enough. When you consider the turnover rate for most inside sales positions, getting people up to speed quickly is even more important.
The best way to address both issues is through the creation of a documented sales playbook used by sales reps. Research shows that organizations with a well-defined sales process perform at a higher level than those that don't. The process should be embodied in the "playbook."
The Components of an Effective Playbook
Just as your favorite football team relies on a playbook to design their approach to managing games and to ensure that everyone works as a team, the sales playbook combines an operations/user manual with key components to ensure effective efforts.
While a playbook is unique to each organization, every playbook should include these items:
Overview of the company and products
The playbook should be the go to resource to train and reinforce your market message, features, and benefits. You'll want to include how to use the messaging and effective sound bites for talking about your products.
Key metrics and schedules
Just as in high-performance sports, high velocity sales require effective routines and clear metrics. Those should be clearly outlined in your playbook.
Buyer personas and relevant information about your customer
Your playbook should house the most recent copies of your buyer personas, ensuring everyone is using the most insightful information about the customers you are pursuing.
The rhythm to be implemented
You should clearly lay out how campaigns will be implemented, who's responsible for what and where the sales rep is responsible for actions. Lead scoring and management processes should be clearly laid out and connected to a service level agreement.
Your playbook should also serve as the operations manual for your sales reps. Everything from how to utilize technology, CRM, log calls and how handoffs are managed should be clearly laid out.
When your playbook lays the process out clearly your sales team is able to focus more on customer interactions and less on process. Additionally, managing performance becomes much easier as you eliminate the guessing.
Playbooks Are A Work In Progress
The sales playbook is never done. If you're in the early stages of growth, you'll want to review and update your playbook on a monthly basis. If your process is more mature, you'll want to do it quarterly.
The important take away is that the playbook should house your latest and best thinking. When a playbook begins to fall out of date, sales reps begin to ignore even those things that are relevant, and chaos reemerges in the sales process.
If you're looking to develop a playbook or you just want to compare how your playbook stacks up, download our workbook on creating an effective sales development playbook.