Convoso's rebrand, growing company, the addition of many great new clients, and many more exciting events in 2016 has given Convoso a lot to be grateful for this year and believe everyone should receive that same amount of cheer as well! That's why this holiday season, Team Convoso has partnered up with The Westside Children's Center to hold a holiday gift donation drive! We hope that no matter where or who you are, you'll join us in helping brighten up the holidays for Westside's families and children in need who have been victims of abuse and neglect.
Our goal is to provide is to gather and raise as many donations and goods as possible — and we need  your participation!
For anyone in the greater Los Angeles area, the Convoso elves are more than happy to schedule an in-person pick up and deliver your donations on your behalf to the Westside Childrens Center. Please reach out to Emily (ecuilty@convoso.com) to schedule a pick up time and date.
Deadline for Los Angeles pick-ups: December 22nd 2016
For those outside of the Los Angeles area, but would still like to participate — have no fear! You can still Shop Westside's Amazon Smile and a percentage of your order will be given to Westside Children's Center.
You can also donate funds through our GoFundMe campaign by visiting the following link: https://www.gofundme.com/convoso-westside-childrens-center-charity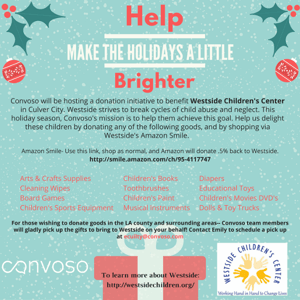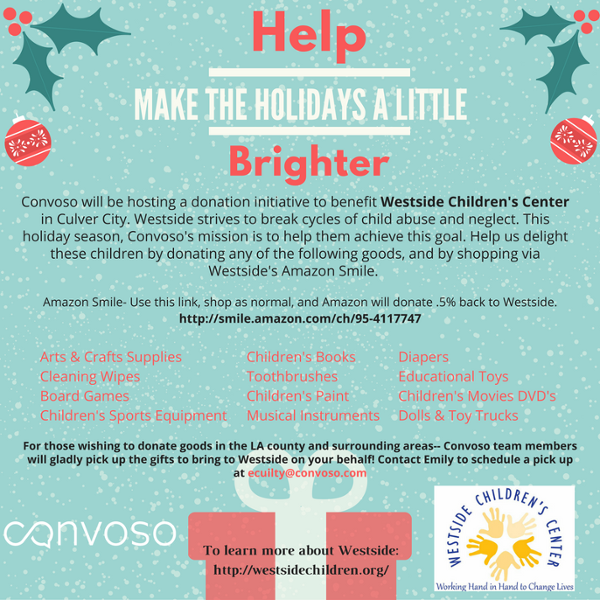 For more details and/or questions, please feel free to reach out to Emily at: ECuilty@Convoso.com